March MTQA Recap
Second Training a Success; October 2017 Sessions Scheduled
On March 9-10, the ASMH Mohs Technician Quality Assurance Training Initiative held its second off-site, two-day training event at the Avantik Academy in Springfield, NJ. Those who attended this session honed their technical skills, learned new techniques, networked, and troubleshot problematic issues.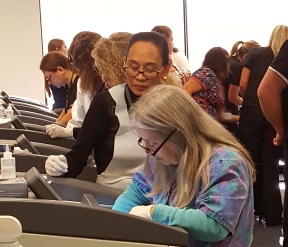 The MTQA presentations included mapping/ inking, various embedding methods, H&E staining, management of irregular-shaped tissue and CLIA regulations.
Trainer demonstrations and lab instruction reinforced the lecture topics where attendees participated in customized, hands-on workshops. The trainees were receptive and enthusiastic in trying the different embedding methods. A staining wet workshop gave the trainees a better understanding of the histochemistry and the importance of the H&E staining procedure in producing high quality slides. Their own prepared slides were presented for microscopic review with faculty. All trainees practiced preparation of irregular-shaped tissue for cryosectioning. Frozen section technique was of tremendous interest, along with its troubleshooting "pearls."
Thank you to the talented and knowledgeable MTQA faculty, Linda R. Cesario, DPM, HT (ASCP), Daniel Gong, MS, MSO, C-PM, Fatat Sleiman, CLT and Marilyn McCullough, CLT, for the valuable information presented, both in the lecture and workshop forums, and for making this event a success.
Learn more about the next MTQA training taking place October 12-13, 2017. Upon completion, trainees will be able to claim 12 CEUs through the National Society for Histotechnology, and will receive a certificate of completion from the ASMH/ACMS.
The MTQA Training Initiative was created by the ACMS to elevate the national standard of Mohs histotechnology and is the only ACMS-approved training program designed to help current Mohs technicians improve their skills and learn new techniques. MTQA trainers are approved for the program after an application process and slide review by a panel of ACMS surgeons, and are complete subsequent slide reviews periodically to maintain their status as trainers. Learn more.