Spring 2019 Newsletter
President's Message
Spring greetings everyone!
As many of you throughout the country are still experiencing snow falling and have plenty to shovel, here in Arizona we are enjoying warm sunshine (protected with sunscreen!) and hikes in the desert. It is simply gorgeous here with an abundance of wildflowers, budding plants and fragrant fruit trees. Allergies are rampant - as is the hustle within the ASMH Program Planning Committee and Executive Council as we prepare for the Annual Meeting Meeting that is quickly approaching.
I hope you can join us in Baltimore, MD, May 3-4, 2019 at the Baltimore Marriott Waterfront. The program agenda will entice and engage attendees with all levels of Mohs experience. Pre-conference workshops once again are being offered on Thursday, May 2 to those who can make it early. The pre-conference workshops have proven to be extremely successful since they offer more individualized instruction and provide information in a smaller group setting, still provided by Mohs technician experts. The General Session includes several dynamic speakers on topics sure to pique your interest. The Final Program can be found here. Look forward to the business meeting when your newest Board Member and Secretary/Treasurer to the Board will be announced, as well as The Distinguished Service Award presentation to one of our colleagues who has exemplified service and leadership. Although pre-registration is now closed, registration on-site will be available. This year marks the 25th anniversary of ASMH. The Annual Meeting will conclude May 4 with a celebratory harbor cruise aboard The Raven. I hope you will join us the event for music, drinks, hors d'oeuvres, friendship, fun and maybe a few surprises!
We congratulate the ACMS on the recent approval by the American Board of Medical Subspecialties for the creation of a subspecialty certification for Micrographic Dermatologic Surgery (MDS). This is a major accomplishment for fellowship trained Mohs surgeons. We are proud of ACMS and even more proud to be the only Mohs technical group supported by the American College of Mohs Surgeons. We are driven to follow in their footsteps. Your Board of Directors is enthused to be taking ASMH and Mohs histotechnology to the next level! ASMH is a viable and necessary organization and like ACMS, we believe in controlled parameters that select only those that are qualified for preparing and producing slides to be of the utmost quality for the result in extraordinary patient care. Join us in this effort of quality and care for our patients. You are crucial in our efforts to move forward. Be on the lookout for the Work Force Study that will be released shortly, as well as a feasibility study for the possibility of a Mohs Qualification or Certification, which is currently in discussion.
There is a myriad of opportunity within our organization, whether it be serving on the board, remaining an active member, simply encouraging and promoting new membership, or just promoting and educating others of our organization, it all counts. YOU are crucial to ASMH and what makes it matter!!
I hope to see you in Baltimore!


M. Maureen Gagnot, HT (ASCP)
ASMH President
---
25th Annual Meeting
ASMH's 25th Annual Meeting is right around the corner. The meeting will take place May 3-4 in Baltimore, Maryland, with a pre-conference workshop day held on Thursday, May 2. We hope you are planning to join! If you have not registered in advance for the meeting and plan to do so in Baltimore, onsite registration will open at 1:00 pm on Wednesday, May 1.
This year's meeting will be split between two locations, the Baltimore Marriott Waterfront and the Four Seasons, conveniently located directly across the street from each other. The General Session, as well as Saturday morning's business meeting and breakfast, will take place at the Four Seasons. All remaining meeting activities – registration, all workshops, exhibit hall, Friday's networking reception, and all luncheons – will take place at the Baltimore Marriott Waterfront.
To commemorate the milestone of ASMH's 25th anniversary, ASMH is throwing an evening boat cruise aboard The Raven in Baltimore's inner harbor on Saturday, May 4. If you have not purchased your ticket to this exciting event, you will be able to do so onsite at the ASMH registration desk until 3:00 pm Saturday. Tickets will not be available after that time and will be required for entrance to the boat. The Raven is located at Pier 5 in Baltimore's inner harbor. Boarding will begin at 6:30, and the cruise will begin promptly at 7:00. We hope to see you there!
---
MTQA: A "Slice" of History
Linda R. Cesario, DPM, HT (ASCP)
On the 25th anniversary of the ASMH, the MTQA training program takes a stroll down memory lane along with exciting new announcements.
ASMH's Mohs Technician Quality Assurance training program (MTQA) has come a long way since its inception. It has also gone through name changes over the years to reflect those changes. The MTQA committee has decided it is time for another name change to keep in stride with the program's continued growth.
The training program was first named the Histotechnology Quality Assurance (HQA) Initiative by the ACMS task force. The intent was to establish quality assurance training and resources for Mohs technicians by a network of "master techs", objectively selected by a panel of Mohs surgeons. It became the Mohs Histology Quality Assurance (MHQA) Initiative in 2005 when the program began and was later renamed the Mohs Technician Quality Assurance (MTQA) Initiative to clarify that this was not an HT certification program. Most recently the "Initiative" was removed, as we are well beyond the introductory level.
The training program initially offered 2-day apprenticeships at the designated Mohs techs' practice site. In 2016, the first off-site training course took place at the Avantik Academy in NJ with a sold out attendance. It continues to draw attendees with a quest for knowledge and skills in the field of Mohs Histotechnology. Both programs are available to suit the needs of the trainee.
In order to make our program name more user-friendly for societal/vendor partnerships, the MTQA training program will be known as: ASMH Mohs Technician Training Program. This announcement comes on the heels of another new chapter in the training program.
The ASMH Mohs Technician Training Program committee proudly announces our new west coast training at Sakura Finetek in Torrance, CA on June 27-28, 2019. Registration is open now so look for more details on the ASMH website. We are very pleased to offer this very informative and educational program to ALL Mohs technicians.
Thank you to the vendors who support our educational growth. The AMSH Mohs Technician Training Program continues to elevate the national standards of a very important profession.
---
---
Mohs Technician Training to take place in Torrance, California
Interested in improving your skills as a Mohs technician?
The ASMH offers customized, hands-on training sessions through its Mohs Technician Training Program. Offered exclusively to technicians who have at least six months experience cutting tissue, this on-site training will include lecture and hands-on training on topics such as mapping and inking, embedding, staining, cryosectioning, CLIA regulations, troubleshooting, and more.
Thursday, June 27 - Friday, June 28, 2019
8:30 am - 3:00 pm
Sakura Finetek USA, Inc., 1750 West 214th Street, Torrance, CA 90501
ASMH members: $750 / Non-members: $1,000
Non-member registration will include ASMH membership through 2019 for techs working for ACMS member surgeons
$50 discount per trainee for practices sending more than one tech

Upon completion, trainees can claim 12 CEUs through the National Society for Histotechnology and will receive a certificate of completion from the ASMH/ACMS. For more information about the MTQA Training Program or customized training opportunities, click here or contact the ASMH office at (414) 918-9813 or info@mohstech.org.
---
Take Advantage of the Mohs Surgery Career Center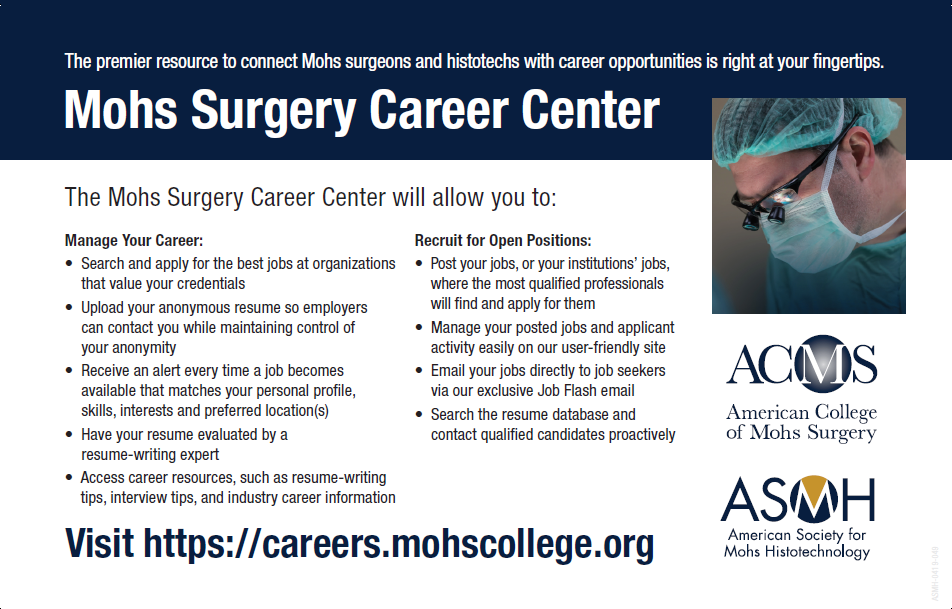 Visit the online Mohs Surgery Career Center to find or post open histotech positions. ASMH members can search openings, post resumes and connect with employers. Contact info@mohstech.org for help accessing member pricing.
---
National Council on Skin Cancer Prevention
Group Continues to Encourage Sun Safety Awareness
The American College of Mohs Surgery is a member of the National Council on Skin Cancer Prevention, and at the Spring 2019 meeting, Council Co-Chairs, Shelby Moneer of Melanoma Research Foundation and Len Lichtenfeld, MD, MACP, of the American Cancer Society, provided updates on Council activities in addition to the State of the Council report. Dr. Theresa Michelle, Director of the Division of Nonprescription Drug Products presented, "FDA: Regulatory Requirements for Sunscreen Products in the U.S." In February of 2019, the FDA introduced the Proposed Rule; Sunscreen Drug Products for Over-the-Counter Human Use.
This proposed rule "describes the conditions under which FDA proposes that OTC sunscreen monograph products are generally recognized as safe and effective (GRASE) and not misbranded." ASMH members are encouraged to read the proposed rule, and if so inclined, submit either an electronic or written comment before the comment period closes on May 28, 2019.
Dr. Henry Lim's presentation Photoprotection: Advances, Environmental Impact and Regulations was especially engaging, and those interested may wish to also read "Review of environmental effects of oxybenzone and other sunscreen active ingredients" in the Journal of the American Academy of Dermatology January 2019, Vol. 80, Issue 1, pg.266-271.
The 2019 Don't Fry Day campaign was introduced to attendees and Dr. Adewole Adamson of Dell Medical School at the University of Texas, Austin presented "Challenges in Skin Cancer Prevention in Skin of Color". Skin Smart Campus awards were announced and new NCSCP member Polka Dot Mama Melanoma Foundation was introduced to the Council.
---
Member Resources
The American Society for Mohs Histotechnology has a rich tradition of dedicated members that work hard to keep the ASMH true to the original commission; to uphold the importance of training, collaboration and consistency, while working in conjunction with the American College of Mohs Surgery to ensure that the high standards set by Dr. Mohs continue to be met.
Members are encouraged to download, and use this graphic in your email signature, on your social media profile or added to your professional online presence. Please remember that you may not, in any way, alter, manipulate or change this graphic. Contact info@mohstech.org should you have any questions about proper use.
---
Troubleshooting in the Mohs Lab
Rodney K. Barber, HT (reprint from Winter 2011)
Troubleshooting is an essential aspect of Mohs surgery. Each day provides a different set of issues for the technician; from fatty tissue, cartilage and humidity in the lab to thick and thin cutting of tissue just to name a few. Technicians are like artists, they have certain tools and techniques that they use to approach each day. I would like to share some of my troubleshooting "tools." On an average day, I have 6-10 cases which have tissue ranging from small to large pieces and fat to cartilage.
After dissecting and inking, embedding tissue can be easy or difficult depending on tissue type and temperature in the laboratory. I utilize a humidifier with fans to keep the room cool. Good ventilation is necessary for safety and provides consistent airflow in the laboratory. Proper freezing of tissue is important once it's embedded and the internal cryostat temperature is critical to maintain consistent cutting. I have found that the more your chamber is open to room temperature the more issues you may have with thawing of tissue as well as the tissue coming off the chuck. Always check staging and angle depth of your blade. Remember to keep your cryostat clean so tissue does not freeze in the chamber and cause other issues. Utilize a clean blade whenever possible to optimize cutting. I use my microscope to verify full epidermis for my sections. Once the staining process begins, another set of troubleshooting tools may come into play to achieve consistent quality of your stains. Some tips include routine cleaning of reagent containers and fresh reagent changes, as needed, to help reduce residue and film on the slides.
Mohs surgery is an ever changing field. Each year there are new products, equipment, and techniques to help make our job easier. My suggestion for the best troubleshooting is to network with fellow technicians and get input from others in your facility. I like to keep at least 3 to 4 techs that I have met through ASMH on speed dial and in my contacts. Based on advice and suggestions, you will constantly tweak and adjust your setup. Conferences and newsletters can also prove to be a valuable resource to help troubleshoot problems. Remember, each day poses different issues, so use all your resources and tools to help achieve a consistent high quality of slides. And always remember "we are the best at what we do!!"
---
Note to ASMH Newsletter Readers:
Reference to any specific commercial product, process, or service by trade name, trademark, manufacturer, or otherwise throughout this e-newsletter, does not constitute or imply its endorsement, recommendation, or favoring by the American Society for Mohs Histotechnology. The views and opinions of authors expressed do not state or reflect those of the American Society for Mohs Histotechnology.
---