What is Mohs Surgery?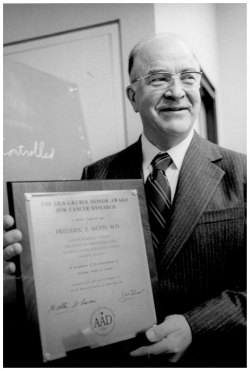 Mohs Micrographic Surgery is named after its founder and originator, Frederic E. Mohs, MD (1910-2002). Dr. Mohs pioneered this procedure while working in the Dermatology Suite of Wisconsin General Hospital in Madison, Wisconsin, and he successfully treated his first patient in June 1936.
As time went by and the number of patients grew, so did the amount of tissue for processing. Dr. Mohs placed a high priority on having high-quality slides processed in an expeditious manner. Over time, Dr. Mohs amended his initial technique to allow the entire surgical process to occur during a single outpatient visit. This allowed patients to have surgery and closure or reconstruction on the same day.
Mohs surgery is a multi-step procedure in which a physician systematically removes cancerous tissue from a patient, examines the processed tissue on slides to determine that all of the cancer has been removed from the designated area, and either closes the tumor site (if all the cancer has been removed) or removes additional tissue for processing and viewing. This process will be repeated until the doctor is confident that all of the cancerous tissue has been removed. Because the surgeon relies on the perfect processing of tissue slides, the histotechnologist is paramount in ensuring a successful procedure.
For more on Dr. Mohs, Mohs surgery, and the American College of Mohs Surgery, visit the ACMS website.