2022 Annual Meeting

Quick Links
Annual Meeting Program and Registration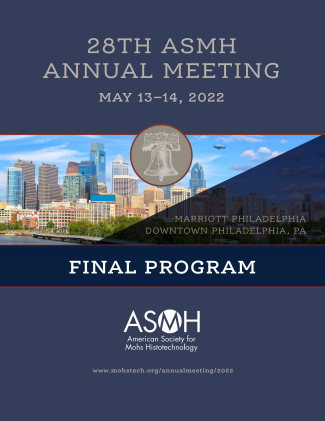 View the 2022 Final Program by clicking on the image to the right, or view the Program at a Glance using the quick link above. Times listed are in the Eastern time zone. (Program subject to change)
Registration Deadlines
Early Registration: On or before March 21, 2022
Regular Registration: March 22 - April 20, 2022
On-Site Registration:
Pre-registration must be received by the ASMH office on or before April 20, 2022. The office will not accept any registrations after this date and will require you to register and pay on-site. Payment must be present when registering for the meeting on-site; no registrations will be invoiced. On-site registration payment must be made via credit card. The registration desk will be open at the Philadelphia Marriott Downtown on the following days and times:
| | |
| --- | --- |
| Wednesday, May 11: | 1:00 pm – 5:00 pm |
| Thursday, May 12: | 6:30 am – 5:00 pm |
| Friday, May 13: | 6:30 am – 5:00 pm |
| Saturday, May 14: | 6:30 am – 4:00 pm |
Please note: The Philadelphia Health Department has announced that, as of Monday, April 11, 2022, the City is moving to Level 2: Mask Precautions. Masks will be required in all indoor public spaces as of Monday, April 18. On-site registrants for the ASMH Annual Meeting will be required to show proof of full vaccination in order to register for the Meeting.
Meeting Cancellation
Registration fees, minus a $75 administration fee, will be refunded upon written notice of cancellation if the request is received at the ASMH office no later than March 21, 2022. Submit your request for refund in writing via email to info@mohstech.org or via mail to the ASMH office (555 E. Wells St., Suite 1100 Milwaukee, WI 53202). Refunds will not be given after that date.
---
Hotel Information
The 2022 Annual Meeting will be held at:
Philadelphia Marriott Downtown
1201 Market Street (guest entrance at 1200 Filbert Street)
Book by Phone: (215) 625-3900
Reduced nightly base room rate: $275 for single/double occupancy + 15.5% hotel occupancy tax & Hotel District Levy (currently .75%)
Hotel check-in time is 4:00 pm and check-out time is 11:00 am
Self-parking (garage): $57.50 daily; Valet: $57.50 daily
NOTE: Rooms must be booked by Monday, April 18. The room block at the Philadelphia Marriott Downtown will be released on Tuesday, April 19, and registrants may not receive the discounted rate after this date.
---
Travel Information
Airports
The Philadelphia Marriott Downtown is 10 miles from the Philadelphia International Airport (PHI).
Transportation from Airports
Driving directions
Travel east from the airport. Take the ramp for PA-291 East and continue to exit 13 to merge onto PA-291 East toward Interstate 76 West/Valley Forge. Turn left onto South 26th Street. Take the ramp onto Interstate 76 West. Follow Interstate 76 West to exit 344 to merge onto Interstate 676 East/US-30 East toward Central Philadelphia. Take the exit for Broad Street/Central Philadelphia. Make a slight left onto Vine Street. Keep right at the fork in the road and turn right onto 12th Street. Proceed to Market Street and turn right to the hotel. GPS Alert - Please use 1201 Filbert Street, Philadelphia, PA 19107 in your GPS. This will take you directly to the hotel drive.
For information on other transportation options including taxi, third-party shuttle, car service or rental, rail, bus, and more, visit the Philadelphia Marriott Downtown Hotel's Map page or the Philadelphia International Airport's To and From page.
Weather
During early May: average high of 75°F; average low of 57°F.
---
Special Note to the Physically Challenged
The ASMH wishes to ensure that no individual with a disability is excluded, denied services, segregated, or otherwise treated differently than other individuals because of auxiliary aids and/or service(s). If you need an auxiliary aid or service(s) identified in the Americans with Disabilities Act, or any assistance in registering for this meeting, please contact the ASMH Office by phone at (414) 918-9813, email info@mohstech.org, or write to 555 East Wells Street, Suite 1100, Milwaukee, WI 53202